It's hardly news we're in a crisis of trust. According to the Edelman Trust Barometer 2017, we're currently experiencing an implosion of trust. Every day we're treated to headlines about fake news, alternative facts and failing media organisations. So what can you do to combat the trust problem?
Edelman reports trust in governments, media, NGOs and business is in unprecedented decline. Content marketing provides an ideal vehicle to build or rebuild trust for your brand. Why? Because when you don't know whom to trust, you tend to take advice from people like you. If your friends and family can't help, strangers with a similar experience are the next best thing. That's why case studies are more important now than at any other time in modern business history.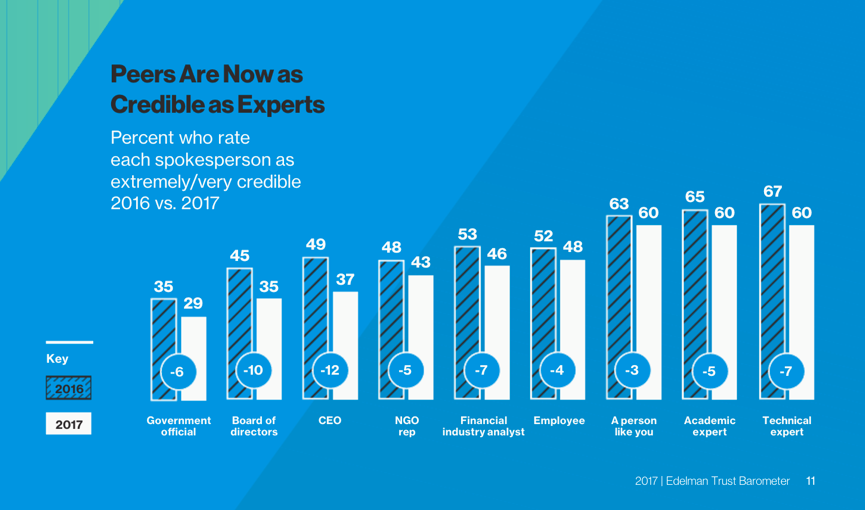 Why case studies?
A case study, also known as a customer success story, details the experience of someone who has used your service and had a good experience. A well-crafted example tells your story from a customer's perspective. A case study is not about you or your brand, but, rather, how you helped solve a problem or made an improvement for them. When following one of the basic rules of journalism – 'people love to read about other people' – case studies provide a perfect vehicle to capture the human elements of just about any project. Casey Hibbard, in her excellent book about success-story marketing, observes that a case study provides:
Credibility by introducing real customers with a similar problem

Education about how your solution solved the problem

Validation by showing quantifiable results and enhanced value
How case studies work
We trust what other people say about products and services more than what a business says about itself. People look to others in similar roles and situations to determine how to make decisions. When told in a brand story format, complex concepts and ideas become memorable and easier to understand. Case studies are an especially good way to demonstrate real-world successes with specific industries and types of problems.
Protecting your best customers
They're also useful because they remove risk and improve effectiveness in how the story is told. It's a documented Word of Mouth referral guaranteeing your story will be told the way you want, with all the supporting detail and hitting all the right competitive points. It also alleviates the burden on your best customers who may be called on to provide references on an ad hoc basis.
What does a case study look like?
A good example of a case study is GIM Drives Multiple Efficiencies at Anglo American's Coal Business. It's written like a magazine article but clearly demonstrates, from a customer's point of view, why acQuire Technology Solutions' software is a good choice for data management. While it sits on the acQuire website, they also have a downloadable version for print that can be included in sales proposals and taken to in-person events.
Another example of a case study is The Power of Visual Storytelling Drives Investments for New Ronald McDonald House Perth. This is a Lush case study about a video production project we did for a Ronald McDonald House fundraising project.
Video storytelling extends your reach
It's worth noting when it comes to case studies that videos are incredibly popular; more than 80% of people say they would rather view a video than read text. This is especially true of younger business professionals who, according to a survey conducted by The Economist, are more likely to favour video. By having the same information in two formats, you increase the chances of people finding you and doing so in a medium that most appeals to them.
How can you use case studies?
A case study is currency in trust – something you can't buy and in short supply. Your case studies should sit in an easily accessible location on your website. They can be distributed across your social networks and shared by your employees on their professional social channels. Send your case studies to industry associations and trade publications as a basis for republishing or as inspiration for future story ideas.
If you'd like help developing a case study to brand journalism standards, get in touch.  Case studies are one of the most effective forms of marketing and one of the best ways to gain trust for your business.
Like what you've read? Sign up to the Lush newsletter for fortnightly advice to help you market your business better, tips from our video production gurus, and a podcast or two from our favourite podcasting team, Brand Newsroom. In the meantime, you might enjoy these:
Who do you trust? [podcast with show notes]
Does your brand pass the 'so what' test?
Authenticity vs oversharing [podcast]
How does the world see you and your business?