Five years ago when I first started speaking about content marketing, no one knew what I was talking about. Even two years ago, I was still being asked to speak and present to audiences where content marketing was a new concept. In the past year, we've seen a massive shift in Australia. Content marketing is finally getting the attention it deserves as a plausible strategy for business. While this is extremely encouraging, we still have a long way to go before business starts to see the benefits associated with a content marketing initiative. So what's holding us back?
Australia hooked on content marketing
According to recent research from the Content Marketing Institute, a staggering 93% of Australian marketers use content marketing. So that means pretty much everyone has accepted that content is the way to go. While that's great news, the same research shows only 39% consider themselves effective at content marketing.
Identifying a big weakness
So what can be done to improve effectiveness? I believe the answer lies in another interesting statistic in the report. Only 52% of Australian marketers have a documented content strategy.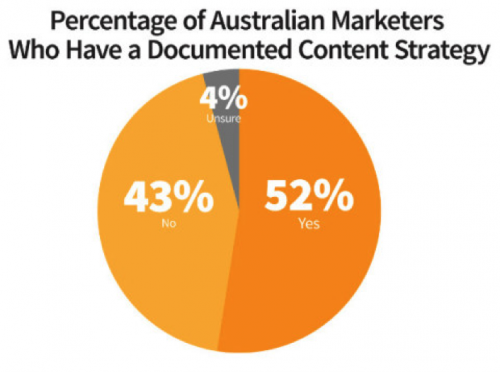 Three questions immediately come to mind for companies working without a strategy:
How do you determine budget?
What guides your execution?
How can you measure effectiveness?
What worries me is that many of these companies without a content strategy will soon conclude content marketing just doesn't work – or it doesn't work for them. Another concern is many of the strategies I've seen aren't really strategies but closer to a collection of unrelated tactics. It's not unusual to discover a company with a content strategy that doesn't address social media or search engine optimization (SEO). (Don't get me started on why social media or SEO are not strategies – I'll leave that for another post.)
What this means for business
Before you head down the content marketing path, I urge you to invest time and budget into developing a content strategy for your business. Not only will it provide a valuable roadmap for your content marketing, it will also give you the ability to measure effectiveness. I'm a firm believer high quality high-quality, original content is a long-term business asset, but only if it supports your objectives and goals.
And here's one last thing to think about – 69% of Australian marketers plan to increase their content marketing spending in the next year. That's even more reason to get a documented strategy in place.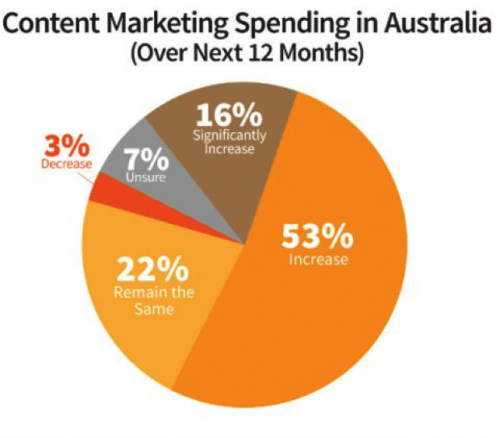 If you'd like to know more about the value of a content marketing strategy, get in touch. I'd love nothing more than to have a chat to help you better understand what a content strategy entails.
- by Sarah Mitchell
Graphs courtesy of the Content Marketing Institute.
"Moving the queen" courtesy of Gabriel Saldana on Flickr.