There's no doubt that the internet has changed the rules of business communication, and as a consequence we're seeing far more casual content produced by organisations. But how far can you go? Smiley faces in tweets? Emojis instead of words in Instagram posts? Or perhaps creating personalised emojis especially for your brand?
Let's take a look:
The rise of emojis
The tiny images have made the move from text messaging into the mainstream, destroying the use of acronyms such as LOL along the way. A testament to their popularity is the naming of an emoji as 2015's 'word' of the year. By Oxford Dictionaries, no less. The winner is … Face With Tears of Joy.

App technology company AppBoy analysed thousands of marketing campaigns and noticed a striking trend: emoji use in email and mobile marketing had increased by 777 per cent in 2015 over the previous year. And according to the data, the retail and commerce sectors had the greatest growth.
The report also compared the most popular ones used by the public and those of brands: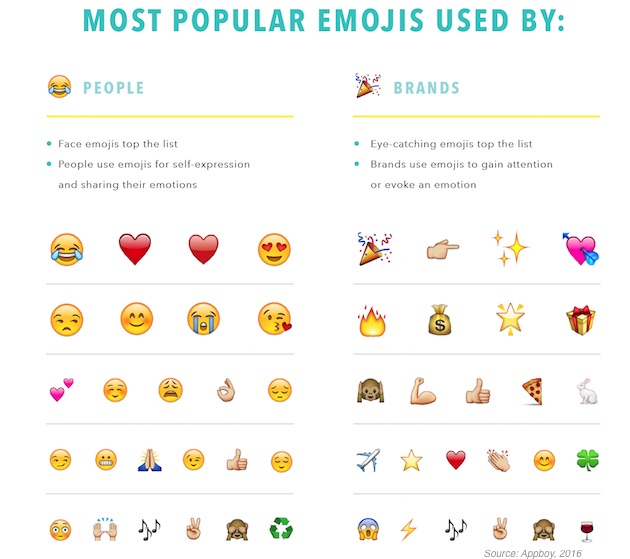 AppBoy concluded that individuals use emojis in their tweets to express their feelings — hence the more frequent use of faces. On the other hand, brands tend to use those that invoke an emotional response to "grab attention and communicate more with less".
Another report from Socialbakers analysed the Twitter and Facebook pages of the top 500 brands. In 2014, 28 per cent of brands used emojis on Facebook, but that increased to 40 per cent of brands in 2015. Meanwhile on Twitter, usage jumped from 45 to 59 per cent over the same time period.
Companies on Instagram are just as likely to use them. A study of brands on the photo-based platform revealed the red love heart as the second-most used emoji but is also the one that averages the highest engagement with users.
Brands that have jumped on the bandwagon
It has evolved well beyond the everyday emojis that are available to all of us on our phones. Titans such as Coca Cola, Star Wars and IKEA are making their own now. Finland even created tongue-in-cheek emojis that represent their country.
Domino's
Pizza lovers can now place their order by texting the word 'pizza' or sending the pizza emoji.  Domino's Australia CEO Don Meij said convenience is at the core of the company's digital strategy and that it was part of their job to anticipate the evolution of ordering.
"We know our customers. We know who they are. They are the gamers who don't want to be far from their keyboards, the busy corporate workers, the social and the time poor parents," he said.
And apparently they do know their customers. The campaign was so successful, it won the Cannes Titanium Grand Prix for breakthrough idea of the year in 2015.
WWF
Popular animal welfare group WWF crafted the #EndangeredEmoji fundraising campaign, featuring cute animal emojis. Each time you tweet an emoji of one of the 17 endangered animals, you can also choose to place a small donation to WWF.
When it goes too far
It's easy to assume that all Millennials/Gen Y (anyone born between 1980 and 2000 roughly) are enthusiastic about organisations using the popular images to target them. Here's when it goes a little awry: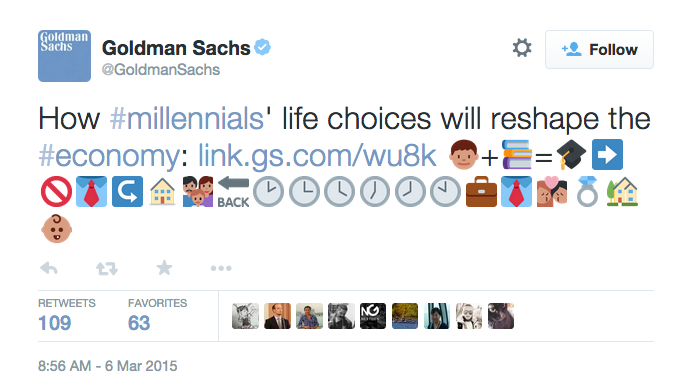 Banking giant Goldman Sachs issued this Tweet in support of their presentation 'Millennials Coming of Age', but there was some criticism. Brands need to be careful — especially if they are dealing with sober topics like banking, politics or medicine. People (including emoji-loving Millennials) see these brands as something of an authority and the relationship is more serious in nature, so they may not respond favourably to emoji use. Plus, if the emojis are ambiguous or too many are used, the message may become confusing.
Tip: understand what they represent before you use them. Just as you wouldn't use a word if you don't fully understand the meaning, don't use an emoji if you're uncertain. For example, that cute little 'fist bump' emoji isn't a fist bump at all – it's actually a punch in the face. For more, check out the helpful complete list here.
If you'd like to rethink your brand's marketing strategy, contact Lush Digital Media.
Like what you've read? Sign up to the Lush Digital Media newsletter today for fortnightly goodies to help you market your business better.