Project Brief
After years of successfully using article marketing as a way to establish credibility and enhance authority in the USA tire industry, Tireweb Marketing wanted to create their own publication. Current industry media publications are focused on news and events. Tireweb recognised an opportunity to provide content to help tire business owners become more profitable. In addition, Tireweb Marketing wants to create additional revenue streams from the content.

Traction News, an online magazine for the tire industry in the USA and Canada, operating in a brand newsroom model.
Lush developed the strategy, pulled together an editorial team and produces the daily content for the publication. All processes and workflows were developed by Lush, who provided an international team of journalists to produce Traction. The Lush team also manages the editorial calendar for the magazine.
Aside from the daily production, Lush developed the media kit, contributor guidelines, sponsored content guidelines and writer guidelines. Email newsletter editorial is developed on a weekly basis.
Traction launched successfully in November 2015 and was an immediate success.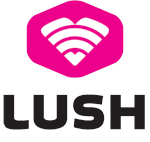 "The international brand newsroom team assembled by Lush Digital Media demonstrated an overall expertise in publishing and media. Traction News has greatly enhanced our reputation and allowed us to initiate conversations and provide an objective view of the USA tire industry. Our customers have been impressed with the publication and we've had excellent feedback from the industry as a whole."