Here's something I believe to be an absolute truth: Producing higher quality content is guaranteed to increase the success of your content marketing.
Now I'm a journalist by profession, so I have a bias towards high-quality content. And obviously other factors are important, too, like a good strategy for amplification and distribution. But it's the quality of the content I really believe in. Create something informative or entertaining — something your audience wants to read, hear, see — and they'll keep coming back. You've already tipped them over the lip of the funnel. You're on your way to creating advocates for your brand.
So I was beyond pleased to see the latest Australian Budgets, Benchmarks and Trends Report from the Content Marketing Institute and the Association for Data-driven Marketing Australia backs up my belief with statistics.
Let's take a dive into the data.
Quality comes out on top for content success
Firstly, the report surveyed 119 for-profit marketers in Australia, who responded to the survey conducted in July and August 2016. Some 82 per cent of respondents said they were already using content marketing on some level. Of those who weren't, 57 per cent said they planned to adopt it next year.
Almost 60 per cent of respondents said their organisation was either "extremely" or "very" committed to content marketing. Twenty-five per cent of the total survey group said their content marketing was "extremely or very successful". That number leapt to 56 per cent for those organisations in a mature or sophistication stage of their content marketing strategy (that group represents 35 per cent of the total respondents). Some 59 per cent of all respondents said their content marketing approach was more successful this year than last year. Again, in the sophisticated or mature group this number was far higher, at 73 per cent.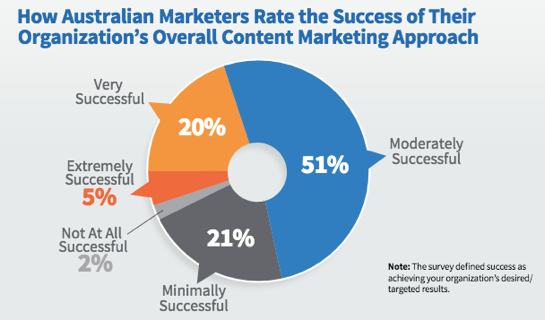 When asked what factors they believed attributed to the success of their organisation's content marketing, it was creating quality content that came out on top.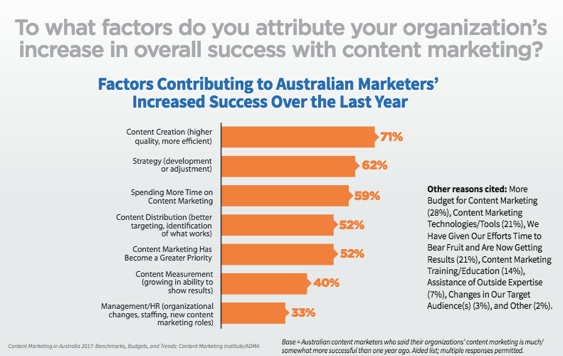 Just what is "quality" when it comes to content?
So, what does "quality" look like? I have a firm view on this.
Create content for the audience. They're the consumer. Give them what they want, not what you think they want.

Quality is not quantity. Better to invest in fewer (although still regular) well-made or well-written pieces, with good production values, than to bombard the audience with more content in a bid to stay "front of mind". This can be a big mind switch from the old-school advertising way of doing things.

Ask yourself whether each piece of content leaves the audience with a good impression. Are they more or less likely to engage with your next piece of content? What is the consumer getting out of it? What's the takeaway for them?
The report gives these ideas a solid nod, suggesting Australia's content marketers agree. Here's how many of them felt each factor was important.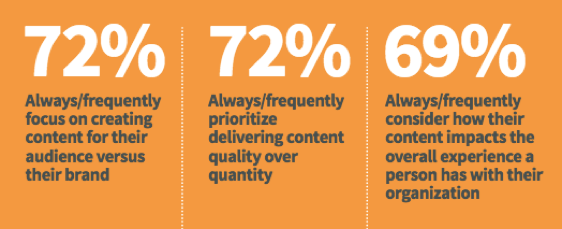 Creating quality should always be a focus
Here's a more detailed look at the responses:
There's more to successful content than just quality; there's distribution, amplification and the effective use of analytics, too, to name just a few factors at play. And the Benchmarks report looks at all of those, too. You can read it for free here. But for me, it's quality that helps a brand make the leap from simply getting a piece of content in front of a potential customer's eyes and having that consumer actively seek your content out, engage with it, share it, and become an advocate as well as a customer.
If you're interesting in creating quality content for your brand — and getting the strategy behind that content right — talk to the team at Lush Digital Media. Like what you've read? Sign up to the Lush newsletter for fortnightly advice to help you market your business better, tips from our video production gurus, and a podcast or two from our favourite podcasting team, Brand Newsroom.  In the meantime, you might enjoy these:
How to do content marketing research
How to avoid a content marketing hangover
Michele Linn on the 2017 CMI B2B Trends Report [podcast with show notes]