The other day one of my colleagues had cause to email Jason Miller, group manager of content marketing at LinkedIn Marketing Solutions. He wasn't in, so she got an automated out-of-office reply.
Here's what it said: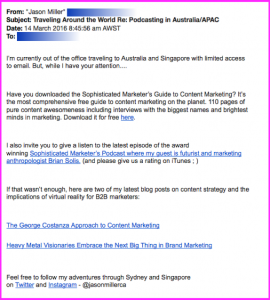 Add personality and content
Notice what he did there?
As marketers (and indeed as a journalist, as I am) we are always looking for ways to get our messages in front of the right audience. In doing something as simple as using his automated out-of-office reply to promote his content, Jason has absolutely nailed it, both in strategy and execution.
'In this day and age a marketer needs to optimize every single potential point of contact and I think this is just another opportunity to share your best content', Jason told me.
He credits the idea to MarketingProfs chief content officer Ann Handley, who recently left a very amusing out-of-office reply while she went holidaying in the Caribbean. In her message she told those emailing her that she was too busy tanning herself 'rotisserie-chicken bronze' to respond and invited them to check out her Instagram account as proof.
'I think for it to be effective it has to be a mix of fun content that's not trying to sell anything', Jason said.
'Inject a bit of your personality into the message as well and I think you will get some very interesting responses. I get replies to my out-of-office message all the time that say simply "LOVE THIS" '. 
It's for kicks, not clicks
So the replies are positive, but does it work? Are people consuming his content?
'It's fun to see a reply to a reply of an out-of-office message', he said.
'If I have the time, I will actually use bit.ly or something to track the clicks, and while they are not coming in at high numbers, the links absolutely get clicks.
'At the end of the day I don't do it for clicks and I don't really expect any results. It's just a fun way to have some fun with content and the standard, boring out-of-office replies'.
Click-throughs or not, adding some personality and some content to your out-of-office reply is clearly a great way to boost to your personal brand amongst those you do business with.
More on Jason Miller
Oh, and just in case you're interested in the content Jason pointed to in his out-of-office, here are the links:
Download The Sophisticated Marketer's Guide to Content Marketing here.
His Sophisticated Marketer's podcast with special guest Brian Solis is here.
Here are his blog posts on content strategy and the implications of virtual reality for B2B marketers. 
If you'd like help with a strategy to communicate your brand, contact Lush Digital Media. We love to help brands reach their consumers in inventive ways.