Filmmaker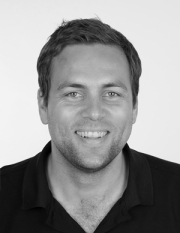 Describe your role at Lush Digital Media!
I'm a Cameraman and Editor. While I'm on a shoot, I'm already piecing the shots together in my head for the edit. It means greater creative cohesion for our clients – because we (the technical team) are involved in the whole process, from concept to delivery.
Tell us about your favourite campaign to date and how you contributed!
I filmed and edited a sneaky co-production for Nulsen and Opera WA.  The Nulsen residents, who are profoundly disabled, thought it was a standard tour of their facilities. However, the guests were actually Opera WA Artistic Director Joseph Colaneri and two singers who put on an impromptu performance.  The residents were totally overcome with the beautiful music. It was great to work on such a touching, joyful project, particularly when the outcome had been fairly unpredictable.
Tell us a bit about yourself, your career and your training!
I have a degree in Advertising, Film & Television and an Advanced Diploma of Screen. I spent much of my filming and editing life at 7 News in Perth and Sydney before joining Lush Digital Media full time in 2013.