If the US election were decided based on who was the better marketer, who would win? It's a question I started asking myself after I bought merchandise from both the Trump and Clinton campaigns recently — something I did at the request of a work colleague who knew I was visiting the USA during the national conventions. In the old days, campaign buttons and other political advertising were supplied by the political party; now they're viewed as a fundraising opportunity. Making a purchase, of course, means you're in their database — and as marketers we all know what happens once you're in the database. For me, this was going to be an excellent opportunity to compare the marketing activities of both campaigns.
On 12 July 2016, I purchased political campaign buttons from the online shops of Donald Trump and Hillary Clinton. I knew I was starting down a path where each would assume I was a supporter. I selected the cheapest investment from both of them — $5 for campaign buttons — and then braced myself for the onslaught.
I was not disappointed.
Shopping – Same purchase from both camps
I purchased the Trump Photo Campaign Buttons (Set of 2) for $5, "Show your support wherever you go with our photo campaign buttons featuring Mr. Trump wearing his iconic Make America Great Again cap." It was a pretty easy decision. Trump had three different styles and I wanted one with his name and the year on it. I also opted for one with his photo. (Since my order, he's added two more buttons with his running mate's name on them.) Trump's ecommerce site is small but efficient.
The Clinton shopping experience was much different. The site had a lot more on offer. It catered for different tastes and styles. It also targeted different demographics, with buttons for a number of different groups including Latinos, Native Americans, Asian Americans, African Americans, LGBT, military families and women. (She's since added even more items with and without her running mate's name.) I wanted a button similar to my Trump purchase with name, year and photo on it. I had a number of different choices and settled on the Making History Button Set also for $5, "You'll want to pass down these buttons down to your granddaughter." [sic]
Both sites requested a lot of information and I gave them everything, including my phone number. I also opted in to receiving email updates from them. Each one offered first class shipping from the United States Post Office and a more expensive option that Clinton said wouldn't guarantee faster delivery. I took the cheapest option from both, paying a total of US $11.70 for the Trump merchandise and US $11.55 for Clinton's.
And then I sat back and waited.
Fulfilment
Clinton immediately sent me an email of thanks for placing my order and said I would have my buttons in 2-4 weeks. A couple of hours later, at 11:00 pm, I received a text message from Clinton welcoming me to the campaign. I immediately asked to have my number removed from the list, something I might not have done if it was not so late in the evening.
I heard nothing from Trump about my purchase until 20 July when he sent me an email saying my order had shipped. The email included a tracking number showing the progress of the package. It landed in my mailbox on 22 July.
Clinton never let me know she had shipped my order but it arrived the day after Trump's package, on 23 July.
The packages were as different as the candidates. Trump delivered his in a Priority Mail, flat rate envelope, 12.5 x 9.5 inches.
Clinton sent her buttons in an Eco Lite Kraft Bubble Mailer, 5.25 x 7.75 inches.
Campaign merchandise
The Trump package included a shipping statement, 2 identical buttons in a Ziploc bag, a Make America Great card with an appeal on the back to "Tag us @RealDonaldTrump and show us your campaign gear!" Trump's an avid Twitter fan but if you weren't, that call to action might seem a little cryptic.
Clinton's package included 3 buttons in a plastic bag closed with a twist tie.
The buttons were exactly what I ordered and both sets came in excellent condition.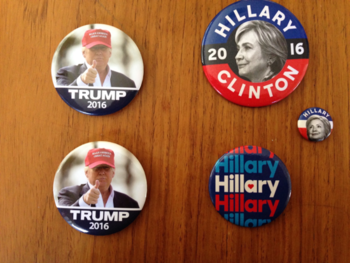 Marketing kicks in
While there were a few clues about the marketing machines behind the candidates, real insight came in the form of the EDM campaigns launched as soon as they had me as a subscriber.
In just over a month, the Donald J. Trump for President, Inc. email account sent me 33 emails. HillaryClinton.com sent me 28 emails.
The candidates have an obvious difference in how they approach email as evidenced by a quick analysis of the content of each one.  Note: Some of the notes had more than one purpose so garnered a tick in more than one category.
Trump treatment
Let's start with Trump because his emails are focused on one goal — getting bums on seats. Every one of them is constructed according to a simple template. The only part of the copy that changes is the time and location. Even if the title is slightly different, each email Trump sends is exactly the same.
Every one is signed from 'Team Trump'. Every one has a list of things, in bold letters, you're not allowed to bring. "NO homemade signs, banners, professional cameras with a detachable lens, tripods, monopods, selfie sticks, back packs or large bags will be permitted into the venue."
Trump is using database segmentation because I only receive notices for events in the state where I have a residence and the surrounding states.
The footer of every email has a place to sign up for 'exclusive updates' via SMS, a link to his donations page and a link to his merchandise shop.
Clinton charm offensive
The Clinton email tactics are poles apart from Trump's. Where Trump is all business-on-autopilot, Clinton exudes warmth and familiarity. Every email is different. Every email is an appeal for me to do something. They're chummy, warm and even funny. Clinton wants to give me all the tools I need to make the best decisions. She calls in big friends like President Obama and Joe Biden but gives equal time to her graphic designer.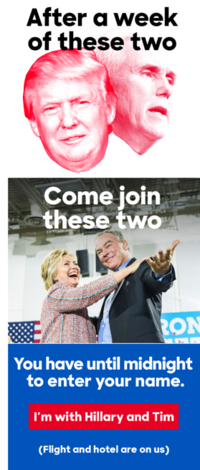 She wants me to shop. She wants me to know what she's thinking and she wants to know what I'm thinking. She tells me what she stands for and why Trump is not the right candidate. She sends me funny photos, an opportunity to sign President Obama's birthday card, and an infographic showing my donation history. There are opportunities for me to enter contests to meet her running mate, Tim Kaine, with enticements like,
"I can't tell you where you'll meet Tim Kaine, and I can't tell you what you'll do. Maybe you'll meet him at a rally! Maybe you'll grab a sandwich between campaign stops! Or maybe you'll get together for a beer and he'll whip out his harmonica! (Seriously.)"
Disclaimer: The copywriter in me recoils at the repetitive exclamation points. Where I come from, sandwiches and harmonicas are not causes for excitement.
But, most of all, Clinton wants me to donate money. She comes right out and asks. She gets her people to ask. A red 'Donate' button features prominently in nearly every email. She keeps a tally and also sends me suggested amounts for future donations. (I assume my one donation in the infographic below was the purchase of the campaign buttons.)
Clinton is working every email angle and she's working them hard. Her email footer describes Hillary for America as a "grassroots campaign of 2 million donors committed to electing Hillary Clinton (and keeping Donald Trump out of the White House)." It also contains links to her key policies, information about her mobile app and links to her Facebook, Twitter and Instagram account.
It contains a sentence in Spanish to direct readers to receive updates in Spanish. It also has friendly little observations like,  
"This is your campaign, so if you have thoughts on anything at all, just click here to send us a message!"
and
"If you're still reading this, you must be a really dedicated Hillary supporter. Yee-haw for you! Thanks so much for doing everything you can to elect Hillary Clinton as our next president."
Click on that link and you'll see a 1995 photo of Hillary dressed like Dolly Parton.  It's had 27,800 likes on Instagram. 
That's a lot of heavy lifting for one email footer.
(Not so) social on the campaign trail
Both candidates have strong online presences. Both websites are updated several times a day. Both have online shops, places to make financial contributions and information for volunteers.
Trump's website contains policy statements, a lot of name-calling and outright attacks on anyone who doesn't agree with him.  Clinton's website is less strident with a focus on policy and issues. She's not above mudslinging and puts those posts above the fold so no one misses them. The social channels they put on the footer of their websites include:
Twitter
Donald Trump has long been a Twitter fan and he's working overtime on that channel. It's mostly an unfiltered account of whatever is on his mind, the more controversial the better. Followers are treated to a lot of abusive comments about anyone that disagrees with him. Name-calling is a special talent. His current targets are Hillary Clinton (of course) and the media.
Clinton's Twitter account has only been around for a couple of years and focuses mostly on the issues of the election.
Facebook
Both candidates are utilising Facebook. Trump is largely on the offensive. Clinton covers a range of topics both political and inspirational.
Instagram
Both candidates have Instagram accounts. Clinton's account is carefully laid out to show her long-term political experience. Trump's account is heavy on campaign photos, with a large number from the Republican National Convention.
YouTube
Even though Trump links to YouTube from his website, there doesn't appear to be a single video concerning his presidential campaign. It features videos about his real estate business, his golf courses, his children's involvement in his business and tours of the inside of his lavish lifestyle.
Clinton's YouTube account is very much focused on her campaign and political career.
Pinterest
Clinton has 17 boards and 456 pins representing her pet projects, inspiration from Olympic athletes and insight into her personal likes. Trump doesn't appear to have an account.
Other accounts
It's hard not to stumble over Clinton or Trump, regardless of where they're focusing most of their time. The Clinton Campaign has a Medium account. Trump has a LinkedIn company page. Clinton has a LinkedIn profile and publishes articles on LinkedIn Pulse. Trump has a Google Plus account that's sporadically updated. All of these activities are clearly not part of their primary strategy.
The winner is . . .
Frankly, the Trump EDM strategy leaves me cold. I quit opening the emails after a week because the title told me all I needed to know. I have no intention of attending a campaign event for either party. If I hadn't been working on this post, I would have unsubscribed long ago.
The Clinton EDM campaign makes me feel a little bit smothered, like when I was in my 20s and spent too long visiting my folks. I appreciate the effort but I just don't need that much guidance in my life.
I like that Trump never asked me directly for money. By the same token, I found Clinton's notorious fundraising capabilities exhausting.
Clinton wins the merchandising contest hands down. I only covered campaign buttons for this exercise but her shopping offering is diverse. Trump didn't surprise or delight on any level on the shopping front.
Social media leaves yet another impression of both candidates. Trump comes across as mean and vindictive. His name-calling is outrageous and not what anyone would call presidential. By contrast, Clinton is carefully crafting an image of expertise, experience and compassion. If social media were calling this election, Clinton would be the clear winner.
Overall, Hillary Clinton is earning the marketing vote. She's working hard to educate and inform while providing inspiration. She's made sure to trade on her relevant experience to position herself as an authority. She has a team putting a lot of time and energy into her communications strategy to portray her as a warm, caring candidate. When we hear her speak, which is often, she comes across as likeable and human.
What do you think? How would you vote if you had to make your decision based on marketing? Don't forget, if you'd like help developing a warm, witty marketing strategy, get in touch with Lush.
Like what you've read? Sign up to the Lush newsletter for fortnightly advice to help you market your business better, tips from our video production gurus, and a podcast or two from our favourite podcasting team, Brand Newsroom. In the meantime, you might enjoy these:
Build trust with your audience using content marketing
Who do you trust? [podcast with show notes]
How does the world see you and your business?
Dealing with PR disasters [podcast with show notes]