Filmmaker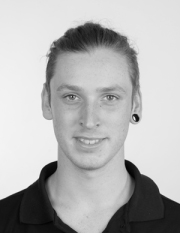 Describe your role at Lush Digital Media!
I am a Junior Cameraman/Editor with a growing skill set and being trained under the watchful eye of Gavin Carroll.  I get involved in every stage of pre- and post-production on a multitude of jobs. One day is never the same as the next.
Tell us about your favourite project to date and how you contributed!
For me, it was our latest Zero2Hero video. I was involved in the creative side of the project, helping to storyboard and produce the dramatisation. The result has been hugely well-received in schools across Western Australia, having a positive effect on the way children deal with mental health issues.  I feel very proud to have been part of the project.
Tell us a bit about yourself, your career and your training!
I joined Lush Digital Media two years ago for workplace learning on a one-day-a-week basis, and I haven't looked back. I joined the company full-time at the start of 2014 after leaving school.